Ever wondered how to make a sachet?  If you are looking for a simple craft to give as a gift or to make something for yourself, these pretty and simple no-sew scented drawer sachets will leave your clothes with a light fragrance.
They make a lovely hostess gift, basket filler, or just a treat for yourself. Pick out a pretty fabric and scent that you love. If you are looking for scents with aromatherapy benefits there are a wide variety of smells and benefits:
Lavender­ – Calming & relaxing
Orange­ – Brightens & relieves anxiety
Cinnamon­ Mood & Concentration
Peppermint­ – Energizing
Sandalwood­ – Relaxing­ alleviates stress, anxiety & depression
Another great idea is to get kids involved.  They can make gifts for family members or teachers.  My daughter always picks pink and loves the smell of lavender.  While my son likes peppermint scents – not he needs any more energy!
We plan to add a few of these no-sew sachets to a gift basket for my sister-in-law.  The kiddos want to find cute Disney material and make some sachets with orange and some with lavender.  I think it'll be a great way to welcome the newest member of the family!
How to Make a Sachet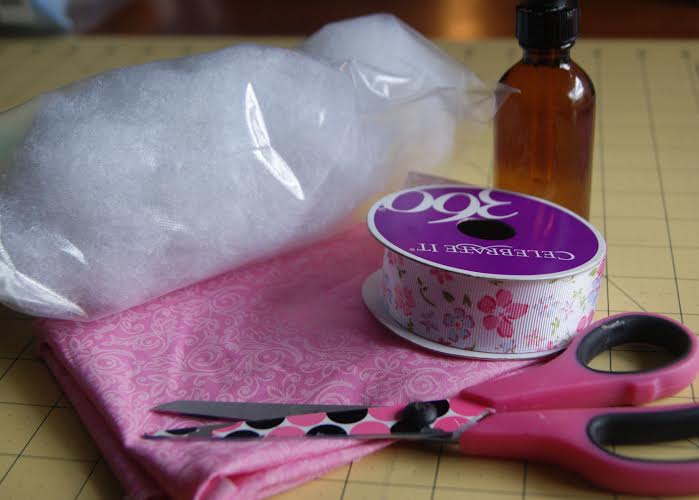 Supplies:
Thin cotton fabric
cotton batting ribbon
essential oil, I used Lavender
scissors or rotary cutter
Directions:
Cut fabric into an 8"8" square.
Cut a 6" length of ribbon.
Fill center with a piece of cotton batting a little bigger than an egg.
Squeeze 5­-7 drops of essential oil onto cotton batting.
Draw up the four corners of your fabric, compress batting.
Tie ribbon just above cotton batting filling.
Knot the fabric.
In just minutes you can have enough sachets for all your drawers and a few for the closet. These are also very inexpensive to make. ­ I picked up this piece of fabric for $1.00 and a roll of ribbon for $1.50, the essential oil I already had on hand. ­ I was able to make 6 from the small piece of fabric, with plenty of other supplies left over for more projects.
I had some leftover flannel from another project and I made my husband a few, tying them with twine to make it a little less feminine, and scented with sandalwood.
Do you have any other ideas for using drawer sachets?