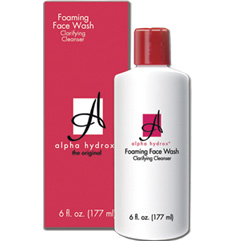 I have always had trouble during the winter months with my skin feeling dry and chapped.  I have tried countless lotions, face masks, and cleansers made for dry skin to help combat the issues that my skin encounters during this time of year.
I recently started using a few products from the alpha hydrox line skin care line, including the enhanced lotion, foaming facial wash and the sheer silk moisturizer from Neoteric Cosmetics.  It took about a week or so for me to see any noticeable difference in my everyday dryness, but I did notice immediately how tight and soft my skin felt immediately after the wash and lotion was applied!
I was very happy to have my skin feeling so great and, much to my surprise, after continuing to use the product for a week or two, the skin dryness that is usually impossible to combat, was significantly better.  I can't remember the last time my skin has felt this soft and moisturized in the winter.  The best part about the enhanced lotion is the 10% glycolic AHA ingredient which is supposed to be help reduce the onset of fine lines and wrinkles.  Although I'm 25 and have quite some time before I have to worry about that, it's nice to know that what works for my skin is also a preventative measure to keep my skin looking young.
I would highly recommend the alpha hydrox line to anyone looking to combat dryness and reduce the onset of fine lines and wrinkles!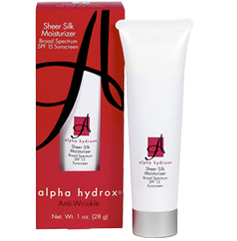 More about the Products:
FOAMING FACE WASH
Contains citric AHA
6 fl. oz.
* For all skin types
* Fragrance-free, soap-free, oil-free
* Gentle, non-drying, pH balanced
* Removes makeup, dirt & pollutants
* Maintains skin's moisture level
ENHANCED LOTION
10% Glycolic AHA
Helps reduce & prevent wrinkles
6 fl. oz.
* For dry skin types
* Effective pH 4
* Enriched with moisturizers
and Vitamin E
* Softens fine lines & wrinkles
* Improves elasticity & evens tone
* No fragrance or parabens
SHEER SILK MOISTURIZER
Unsurpassed, moisturization plus an SPF 15 Sunscreen
1 oz.
* For all skin types
* Lightweight, intensive moisturizer
* UVA/UVB SPF 15 sunscreen
* Non-greasy, fragrance-free
* Contains Lactic AHA, Vitamins E&B5, Soy & Green Tea
* pH 7.8-8.0
* Light diffusers give an instant glow
Disclosure:  The products listed above were received in exchange for writing this post.  All opinions are 100% my own and may differ from others.
Posted by: Courtney