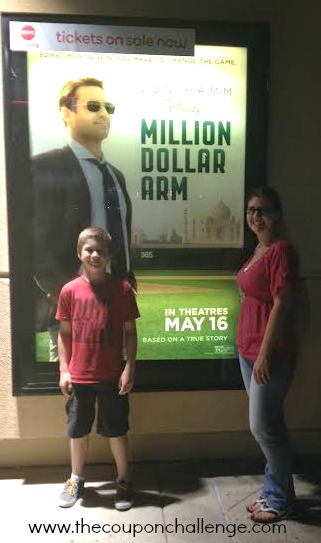 We had the opportunity to see Disney's Million Dollar Arm before the release!   I headed to the theater Tuesday for a night out with my little man.  This was my first advanced screening and it ended up being a great experience.
Million Dollar Arm is a great family film that should be popular even with people that aren't into sports. I'm not a baseball fan, and I still enjoyed the movie. The plot is so much more than throwing a ball.
I thought it was well made and spent just the right amount of time sharing the 1-year span of events. Some movies have parts that just seem to drag on forever, but I didn't get that feeling with Million Dollar Arm. The emotions were also well played throughout the film. You could feel the excitement, fear and determination of the characters. The movie is light-hearted with plenty of laughs (some of which my son didn't get.) I found the car scene after JB Bernstein had spend the night with Brenda absolutely hilarious.