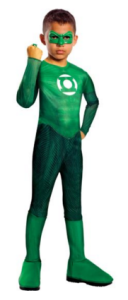 Wow!  Can you believe Halloween is only a couple of weeks away?!  When I looked at the calendar and saw how soon it is, I was shocked-and immediately starting asking my 6 year old what he would like to be this year..and was not surprised to find out our family would be Super Heroes again!  He requested a Green Lantern Costume this year.
So I did what most modern parents do, I hit the internet.  After searching several websites, I found Costume Super Center and fell in love!  They have a HUGE collection to choose from and their prices rock!  They even have a clearance section on the site which of course I had to check out!  We found a Green Lantern costume that Will loved, and hit the complete order button.
The costume came pretty quickly and I was impressed with the quality of it.  No scratchy, cheap costumes here!  Although the quality was very nice, we had an issue with the sizing.  Despite ordering the correct size based on the site's size chart, the costume is rather big for my son.  The size stated ages 5-7 and my son will be 7 next month, so I actually considered getting the next size up, and am very glad that I didn't.  Will is tall for his age so the fact that the costume was too big for him was quite surprising.  Unfortunately, there isn't enough time to return the costume and get another one. The plus side, is that Will doesn't seem to notice that the costume is too big and is happy…and really, that's all that counts right?