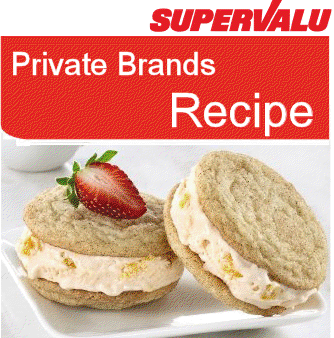 Dessert at "Home Cooking New York" during the SUPERVALU Essential Foods for Every Season Event was Chocolate Chip Cookie Peach Ice Cream Sandwiches.  The recipe below is for Snickerdoodle but we just used roll chocolate chip cookie dough and it workout well.  I LOVE chocolate chip cookies, so the substitution was just fine with me!
I think the Peach ice cream was a fantastic idea.  We typically have vanilla with the kids ice cream sandwiches but the Stone Ridge Creamery® Harvest Peach Ice Cream kicked it up to a new level.  I was also impressed with the quality of the Stone Ridge Creamery ice cream.  I didn't realize the ice cream was a store brand.  I thought it was homemade!!
Snickerdoodle Peach Ice Cream Sandwiches
Active Time:   30 minutes
Total Time:  1 hour
Amount:   8 servings
Ingredients:
1 (16.5 ounce) chub Essential Everyday™ Refrigerated Sugar Cookie Dough
1 tablespoon Essential Everyday Granulated Sugar
½ teaspoon Essential Everyday Ground Cinnamon
2 cups Stone Ridge Creamery® Harvest Peach Ice Cream, softened
Directions:
Combine sugar and cinnamon in a small dish; set aside.  Divide cookie dough into 16 pieces; roll into balls. Roll dough in cinnamon sugar and place on an ungreased large baking sheet.
Bake in a preheated 350°F oven 10-12 minutes; remove from oven.  Cool on baking sheet 1 minute; transfer cookies to cooling rack to cool completely.
Place ¼ cup softened ice cream on the bottom side of one cookie.  Top with a second cookie, bottom side down.  Gently press together; place on a baking sheet. Repeat with remaining cookies.  Freeze until ice cream is firm (about 30 minutes).
*I forgot to snap a picture of our Peach Ice Cream Sandwiches – I was too busy eating it 🙂
See More Recipes from my #EEinNYC Trip:
Mock Mojitos Recipe
Shrimp Tacos with Mango Avocado Salsa Recipe
Veggie Pita Pizza Snacks Recipe
Edamame & Spinach Dip Recipe
Watermelon & Prosciutto Salad Recipe
Bacon, Cheddar & Apple Panini Recipe
~Snickerdoodle Peach Ice Cream Sandwiches Recipe
**All recipes were developed by Genie Nicholas, SUPERVALU's culinary manager.