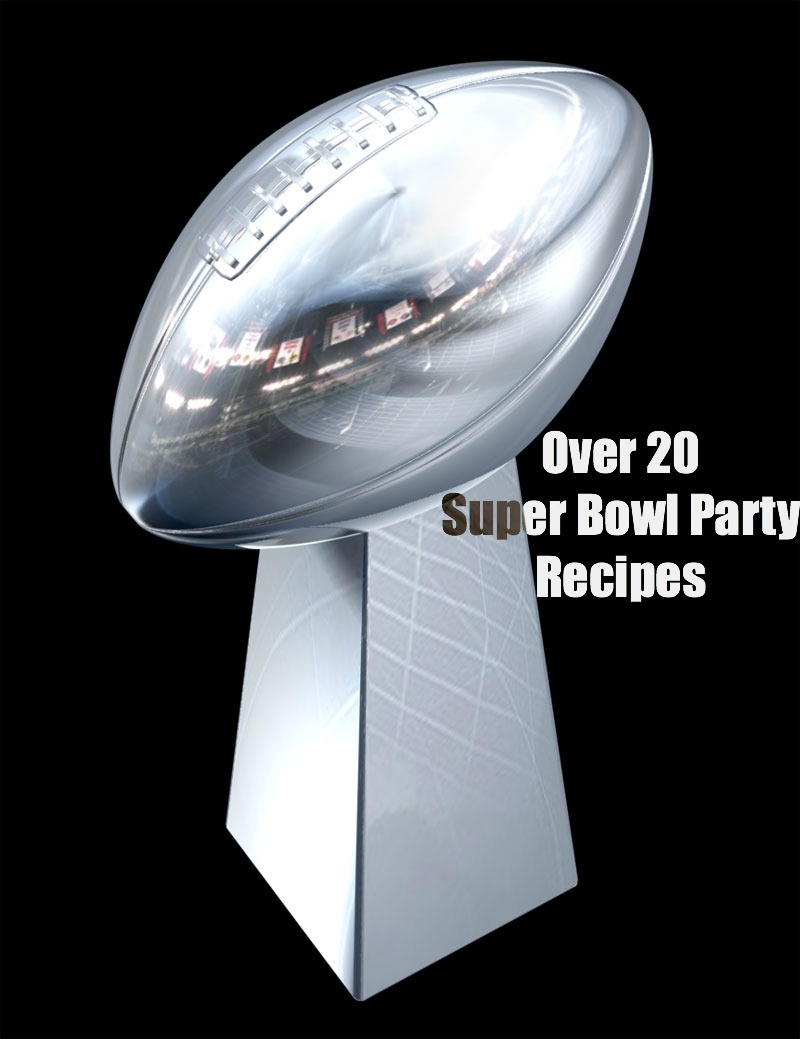 Looking for Super Bowl party food ideas?  Find the best Super Bowl Party recipes recommended by football fans.  The Super Bowl Food list includes dips, finger foods, nachos and more!
I also have a few new recipe ideas:
Last year I asked YOUR favorite Game Day recipes.  I compiled all those delicious recipes into 1 huge post of Super Bowl Party recipe ideas!
Please feel free to leave your recipe in the comments section.
Dips:
Stephanie's Pizza Dip:

3 pkgs. Cream Cheese softened
1 bag of shredded Parmesan cheese
1 bag shredded mozzarella cheese
1 jar of pizza sauce
Pepperoni (optional)
Directions:
Mix cream cheese, bag of Parmesan cheese and 1 cup of mozzarella cheese in a bowl – mix thoroughly.
Spoon the cream cheese mixture into the bottom of a baking dish
Next, Layer the jar of pizza sauce on top of the cream cheese mixture
Layer the remaining mozzarella cheese on top of the pizza sauce
Cut the peperoni into pieces and layer on top of Mozzarella cheese
Bake on 350 degrees until bubbly
Dip with Tortilla chips. Awesome and easy!
David's Simple Dip:

French onion dip with sour cream and French onion mix.
Kathie's Fiesta Ranch:
Hidden valley powder mix with plain yogurt or the vanilla to make it a little sweeter.
Kirstin's Chips and guacamole:
Slice and dice avocados, tomato, onion. Sprinkle with lime juice and salt. Serve with corn chips
Heather's Easy Queso:
1lb hamburger cooked & crumbled
1 big block of Velveeta cheese
1 jar of salsa
Put it all in the crock pot & serve with chips
Tracey's Hubby's Queso Recipe:  
Hamburger seasoned with Lowry's , mild queso and tostitos chips
Barbie's 7 layer Taco Dip:
Ingredients
1 (1 ounce) package taco seasoning mix 1 (16 ounce) can refried beans 1 (8 ounce) package cream cheese, softened 1 (16 ounce) container sour cream 1 (16 ounce) jar salsa 1 large tomato, chopped 1 green bell pepper, chopped 1 bunch chopped green onions 1 small head iceberg lettuce, shredded 1 (6 ounce) can sliced black olives, drained 2 cups shredded Cheddar cheese
Directions
In a medium bowl, blend the taco seasoning mix and refried beans. Spread the mixture onto a large serving platter.
Mix the sour cream and cream cheese in a medium bowl. Spread over the refried beans.
Top the layers with salsa. Place a layer of tomato, green bell pepper, green onions and lettuce over the salsa, and top with Cheddar cheese. Garnish with black olives.
Meat & Finger Foods:
Annie's Ham Roll Ups:
Carl budding ham , cream cheese, and horseradish. Mix the horseradish and the cream cheese to your liking ( I usually use a teaspoon at a time and taste it to make sure it isn't too strong) you spread it on a price of ham and roll then roll it up. Slice in half and you have perfect bite size pieces or snacking.
Barbara's Simple Stuffed Jalapeño Peppers: (that a friend told me about when I was on a diet a long time ago).
FRESH jalapeno peppers
Laughing Cow cheeses (whatever your favorite flavors are)
Turkey Bacon
– Slice the peppers in half lengthwise and scoop out the seeds and membrane.
– (I use just my fingers to) Stuff the peppers with some cheese (one wedge will usually stuff 2 to 3 halves for me).
– Slice each strip of turkey bacon into 2 or 3 pieces. I used to slice it into 2 pieces and actually wrap it around the stuffed pepper, but for simplicity I now slice it into 3 pieces and just lay one piece over the top of each pepper.
– Bake in the oven for 5 to 10 minutes – just until the turkey bacon looks done or the peppers will be really soft and have no crispness left.
These make a great late night snack for those on a low-fat or low-carb diet. It's really quick to make just a few and pop them in the toaster oven.
Heather's Hot Wings (that I only make for special occasions since they're so unhealthy):
1 cup butter, melted
4 packages dry Italian dressing mix
1/4 cup lemon juice
1 1/2 cups Red Hot
Toss over fried hot wings (we use a turkey fryer to accommodate more at one time).
Laur's Sweet-N-Spicy Meatballs:
1 bag meatballs
1 jar chili sauce
1 jar grape jelly
Mix grape jelly and chili sauce together and pour over meatballs in a crock pot. Set temp on low and cook for 2-3 hours.
Summer's Chicken and refried bean quesadillas:
One rotisserie chicken (or 3cups cooked leftover)
One taco seasoning pack
One can of refried beans
One can rotel tomatoes
Tortillas
Green onion
Shredded cheddar
–reheat the chicken with taco seasoning and a little water in a saucepan over med heat. Spread beans on a tortilla and top with chicken, add rotel and green onions and cheese and top with another tortilla, bake at 350 until bubbly. Serve with a sour cream ranch sauce. *tip* if u like them extra crispy lightly heat the tortilla in a non stick pan with a little canola oil!
Alena's Buffalo wings:
12 whole chicken wings
3 ounces unsalted butter
1 small clove garlic, minced
1/4 cup hot sauce
1/2 teaspoon kosher salt
Jason's Sticky Chicken Wings with blue cheese dip:
12 chicken wingettes, separated at the joint and tips discarded
1 tablespoon vegetable oil
Salt and pepper
1/4 cup sour cream
2 ounces (1/4 cup) cream cheese, at room temperature
1/4 cup crumbled blue cheese
1/4 cup store-bought tangy barbecue sauce
1/4 cup honey
1 clove garlic, finely chopped
1/4 cup sesame seeds, toasted
Directions:
1.Position an oven rack in the upper third of the oven and preheat to 450°. Line a large rimmed baking sheet with foil. In a large bowl, toss together the chicken, oil, 3/4 teaspoon salt and 1/2 teaspoon pepper. Arrange the chicken on the prepared baking sheet and roast for 15 minutes.
2.Meanwhile, in a small bowl, mash the sour cream and cream cheese with a fork; season with salt. Stir in the blue cheese and 1 tablespoon water. Refrigerate until ready to use.
3.In another large bowl, stir together the barbecue sauce, honey and garlic. Transfer the partially cooked chicken wings to the sauce with tongs and stir to coat. Discard the foil and line the same baking sheet with parchment paper. Return the wings to the baking sheet and roast in the oven for 8 minutes. Sprinkle with the sesame seeds and roast until the wings are nicely browned, about 5 minutes more. Serve with the blue cheese dipping sauce.
Jessica's Lil smokies:
2 pks of lil smokies,
2 bottles of your fav bbq sauce (I use brown sugar bbq)
grape jelly
squeeze of mustard
A1 sauce
Crock pot it for a few hours and voila
Cheryl's Grape Jelly Meatballs:
12oz grape jelly
1 jar of chili sauce
bag of frozen meatballs
I just put in crockpot on high and let it cook.
Love it cold too.
Jordan's Grape Jelly Meatballs:
12oz grape jelly
1 can of chili sauce
bag of frozen meatballs
stir and heat jelly and chili sauce in a crockpot.
add in meatballs.
cook on low-medium for about 3 hours.
Anna's BBQ chicken:
crockpot
chicken breast
Italian dressing
sweet baby rays bbq sauce
oj
cook it all day and done in time for a game for slider
Nacho's:
Gina's Nachos:
Tortilla chips, sharp cheddar cheese, refried beans, guac, sour cream, and black olives!
Melissa's Nachos:
Simple and quick. Nacho chip piled high with Cooked ground beef, refried beans, shredded cheddar cheese, onions, tomatoes, lettuce, sour cream and onions. Yummy!
Nachos:
Nacho chip piled high with Cooked ground beef, refried beans, shredded cheddar cheese, onions, tomatoes, lettuce, sour cream and onions.
Meatless:
Cara's Western Potato Rounds:
Russet potatoes
BBQ sauce (your choice)
scallions (small slices)
shredded cheddar cheese
Bacon (crisped & chopped)
Light Olive Oil
Slice potatoes into 1/4-inch thick circles/ ovals. Brush one side with olive oil. Place on cookie sheet and bake at 400 for about 20 min. (Varies depending on oven and thickness of slices. Potatoes will be golden brown and skin will bubble a little when done.) Mix sliced scallions, cheddar cheese, and chopped bacon together in a bowl. Brush cooked potatoes with BBQ, top with cheese mixture, and return to oven for 3-5 minutes. SERVE.
Holly's Jalapeno Roll-Ups:
1 package burrito sized soft flour tortillas
2 8oz cream cheese
1 jar diced jalapenos
1 small can diced black olives
1 bag Mexican shredded cheese (15oz bag)
1 jar chunky salsa
Allow cream cheese to soften, I let them sit out for about an hour or so. In a mixing bowl, hand stir in jalapenos and chopped olives to taste. (I normally use about half of both, but you can use more or less if you would like.) Gradually stir in the cheese, and I do use the whole bag. Spread a thin layer on the burrito shells and roll up. Allow rolls to chill in refrigerator for 3 hours. Slice and serve with salsa on the side.
Danielle's fruit pizza:
crust= pizza crust mixed with cinnamon and sugar, then bake
sauce= vanilla yogurt with vanilla pudding dry mix mixed in
toppings= strawberries, blueberries, kiwi, pineapple (those are just my favorites, but you can do whatever you want!)
chill in fridge and EAT!
Other Ideas Without a Full Recipe:
Kelly: moms bite size meat balls
Ashley: Spinach Artichoke dip. It's easy to make ahead of time then throw in the oven right before the game! Serve with tortilla chips!
Crystal: ground hamburger melted into Velveeta Cheese
Eric: mini pigs in a blanket.
Judy: Mexican 7 layer dip. It is so good and so easy. Recipe on cooks.com..and no cooking
Kelly:guacamole and nachos
Katie: buffalo chicken dip
Trish: dips and veggies
Noelani: warm cheese and corn dip is my fav game day recipe!
Anne: game day brunch with eggs, bacon, sausage, french toast and the like! We try to keep the recipes simple but every now and then, we will make omelets or biscuits and gravy
Dawn: chili with cornbread!!
Nicole: rotel and Velveeta
Mary: BBQ Pulled Pork (crockpot) for sandwiches or sliders
This one from Tim just made me laugh:
Football party Recipe:
Pick up phone Book
Call local pizza restaurant
Anything other than that is a disappointment to the guests
What is your favorite Game Day Recipe?