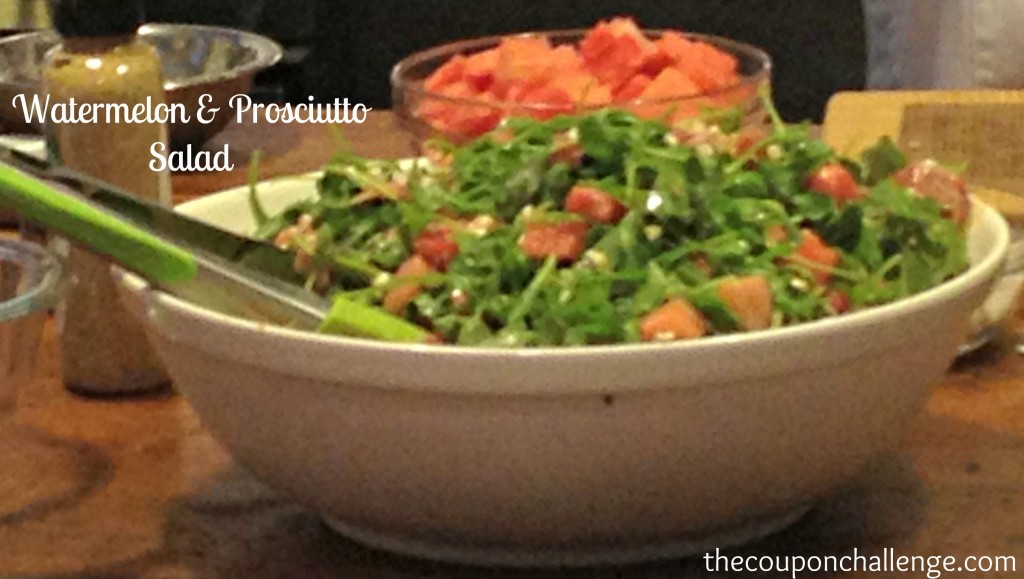 Edamame & Spinach Dip was the first recipe we made for dinner at "Home Cooking New York" during the SUPERVALU Essential Foods for Every Season Event.  As it turns out, just about everything in the meal included ingredients that I either don't like or have never tried.  Surprising to most people, I'm not a fan of Watermelon (gasp).  However, it actually works well in this salad.  My family are all huge watermelon fans, so this is another dish that will make it to our dinner table.
Watermelon & Prosciutto Salad
Active Time:   15 minutes
Total Time:  15 minutes
Amount:   6 servings
Ingredients:
1 (5 ounce) package baby arugula leaves
4 cups cubed seedless watermelon
1 (3 ounce) package Culinary Circle® Prosciutto Slices, cut into ½-inch pieces
1 shallot, sliced
1 cup Essential Everyday™ Pine Nuts, toasted
½ cup Culinary Circle Crumbled Reduced Fat Feta Cheese
¼ cup Essential Everyday Light Balsamic Vinaigrette
Directions:
In a large salad bowl or mixing bowl, combined all ingredients.
Gently toss to coat; salt and pepper to taste.
Serve immediately.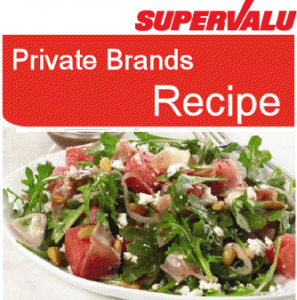 See More Recipes from my #EEinNYC Trip:
Mock Mojitos Recipe
Shrimp Tacos with Mango Avocado Salsa Recipe
Veggie Pita Pizza Snacks Recipe
Edamame & Spinach Dip Recipe
~Watermelon & Prosciutto Salad Recipe
Bacon, Cheddar & Apple Panini Recipe
Snickerdoodle Peach Ice Cream Sandwiches Recipe
**All recipes were developed by Genie Nicholas, SUPERVALU's culinary manager.