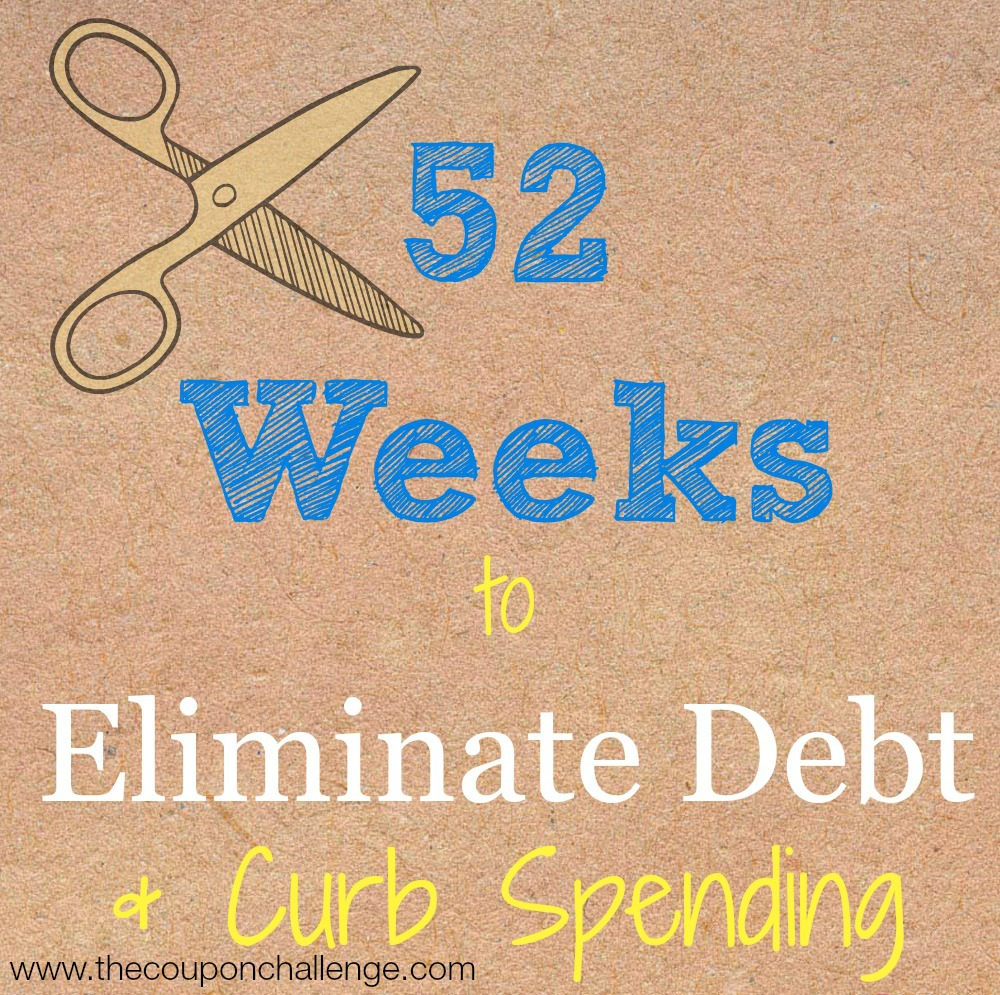 You are reading Week 23 of 52 Weeks to Eliminate Debt & Curb Spending. Please read the overview here to learn more about the series & get your FREE financial planner. If you just joined us, please start with week 1.
We will continue throughout this series to focus on the multitude of ways you can create funds in your budget to pay off debt. Here are 7 of the most common ways to save money on groceries & household expenses. Each of these methods is just one more step toward getting out of debt and finding financial security.
7 Ways To Save Money On Groceries & Household Expenses:
1. Use coupons and savings apps. Right away you have free and easy savings on food, household and health supplies just by using coupons. There are tons of options for savings that can easily cut your grocery bill by 50% or more. Savings apps are also great options if you aren't into clipping the coupons. There are many stores with rewards cards or savings apps that you can scan at check out or upload receipts to and get cash back on your purchases.
2. Make your own household cleaners. Homemade laundry detergent, fabric softener, hand sanitizer, all purpose cleaners, natural bleach solution and more are easy to make for often times half the cost. This also results in a safer and more green home.  I have a post on how to make your own frugal green cleaners from your kitchen – no extra supplies needed.
3. Drop cable or satellite. We will mention this a lot throughout the year, but we often spend money unnecessarily on entertainment each month. Cable and satellite can be upwards of $100 per month. Instead invest in the $99 per year for Amazon Prime that offers free movie and television show streaming along with tons of free books, music and shipping.
Alternately, you can pay low monthly fees to places like Netflix and HuluPlus for streaming services.  We have a Roku for streaming movies on our TV, but I've heard the Fire TV Stick is a good option.
4. Go to prepaid cellular phone service. You can easily find prepaid cell plans that are a fraction of the cost of your current contract plan. Crunch the numbers and make a choice to go with prepaid in the future.
My sister-in-law recently switched to this option.  She's saving a ton of money, has a phone and texting abilities while on the go, and uses her iPad for messaging while connected to WiFi at home.
5. Menu plan or use freezer meals. Last minute drive thru purchases or wasted food in your refrigerator are some of the biggest frivolous expenses in your grocery budget. Create functional menu plans and utilize them or freezer meals to guarantee meal time is smooth and you aren't wasting food that is being thrown in the garbage.
6. Carpool when available. Gas prices yo-yo up and down all the time. Carpooling with your spouse, neighbors or friends to and from work can split expenses easily. It can also come in handy for taking kids to school, school events, practices and other after school needs.
If there is no carpool in your area, simply work hard to make sure your time out and about is used wisely. Plan your trips for errands well so you aren't back tracking or making multiple trips when unnecessary.  Read these 6 tips for saving money on gas now.
7. Change the temperature on the thermostat. One simple way to save money on your heating or cooling expenses is to set your thermostat differently. In the summer set it at 78 degrees and wear looser lighter clothing while utilizing small fans or ceiling fans instead. In the winter set it at 68-72 degrees and add layers of clothing, throws, blankets and alternate heat like wood burning stoves as needed.
These ways to save money on groceries and household expenses are simple things anyone on any budget can evaluate and change. It's often the little things like this that add up quickly to create hundreds of dollars per year to pay toward your family getting out of debt.
Week 23 Challenge:
Pick one new way to lower your expenses.  Start using coupons, shopping sales or driving less.  Adding in just one of these new habits to your daily routine can increase your savings over time.
What are simple ways you can reduce your monthly expenses?  Share with us your ideas.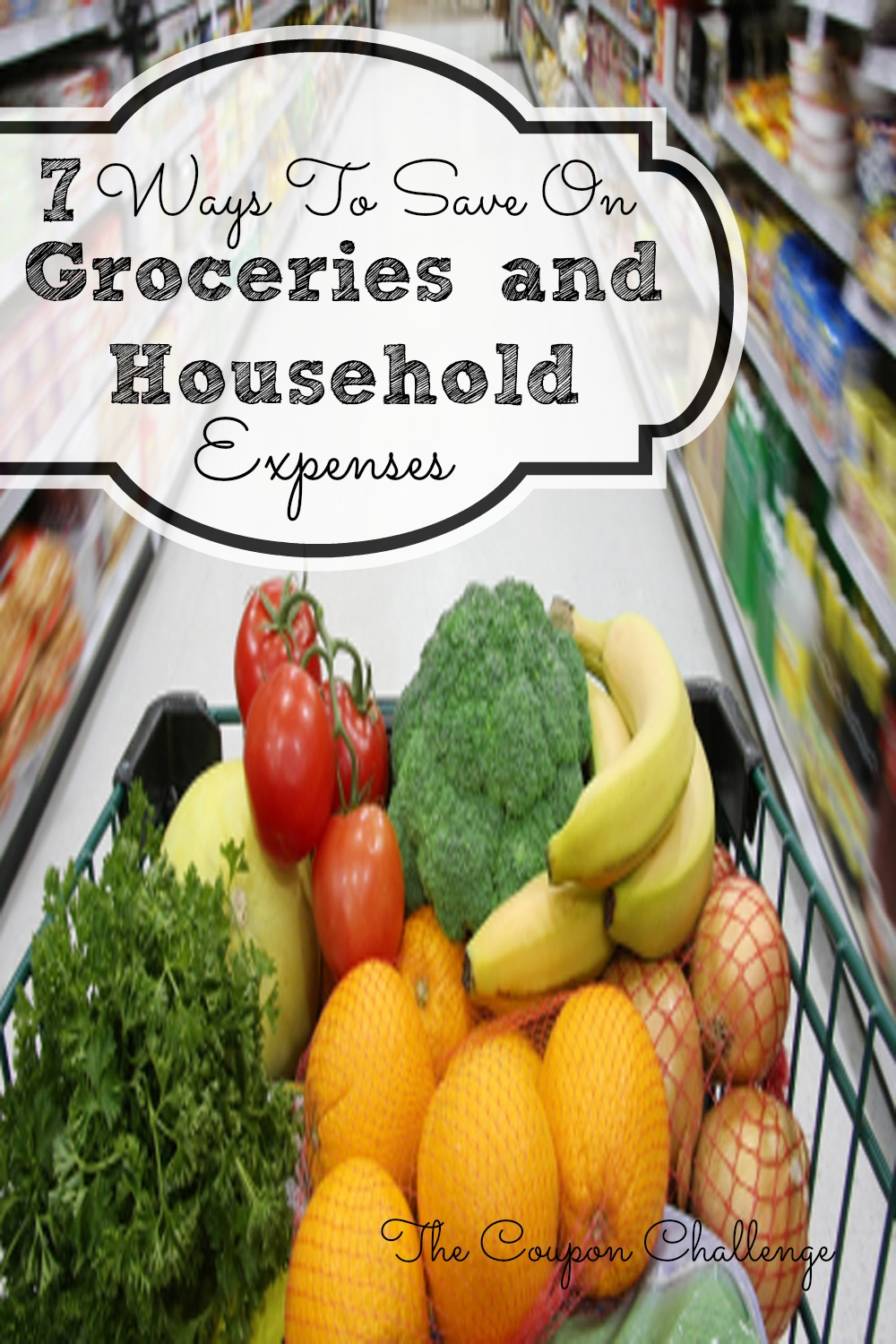 Disclosure: I am not a financial adviser nor do I have formal financial training. All articles are for informational purposes only and should not be interpreted as financial advice or consultation. Please consult your account and/or financial adviser before making changes to your finances. All situations are different, so please consult a professional to determine your individual needs.