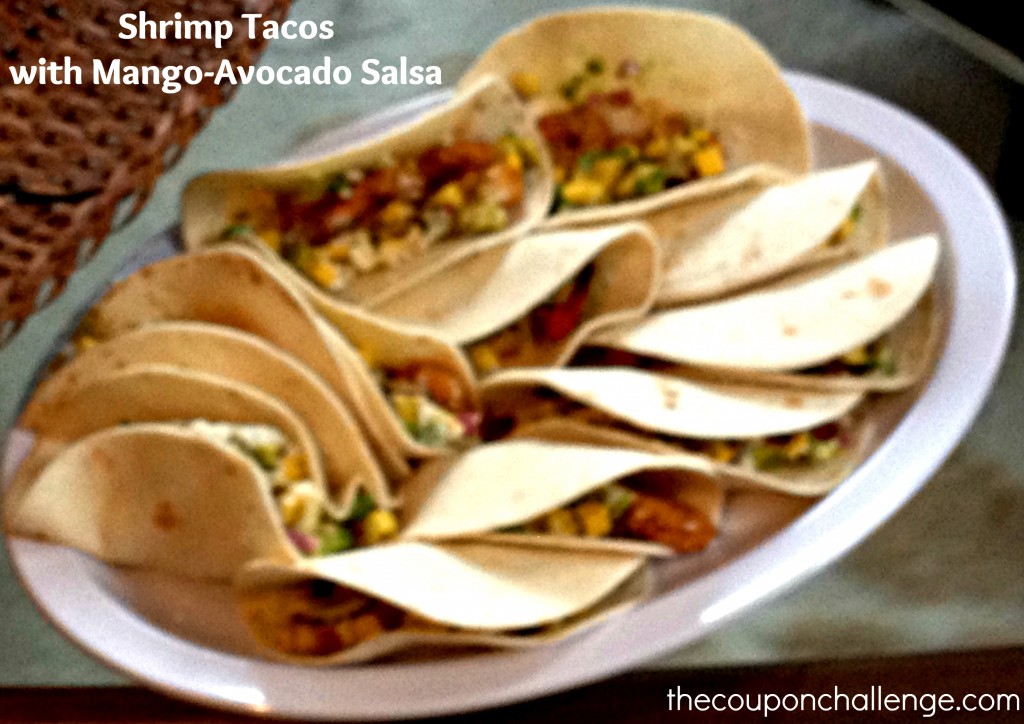 While waiting to start cooking our dinner at "Home Cooking New York" during the SUPERVALU Essential Foods for Every Season Event, we ate Shrimp Tacos with Mango-Avocado Salsa.  I gotta say, this was definitely one of my favorites!
Shrimp Tacos with Mango-Avocado Salsa
Active Time:   25 minutes
Total Time:  1 hour
Amount:   4 servings
Ingredients:
¼ cup olive oil
¼ cup water
1 (1 ounce) packet Carlita® Fajita Seasoning Mix
1 pound uncooked shrimp, peeled and deveined
1 cup diced mangoes
½ cup chopped red onion
1 fresh jalapeño pepper, seeded and diced
1 ripe avocado, peeled, pitted and diced
½ cup Carlita Salsa Verde
– bamboo skewers, soaked in water 30 minutes
8 (6-inch) Carlita Flour Tortillas, warmed
– crumbled Mexican Cotija cheese
Directions:
In large bowl, combine oil, water and fajita seasoning mix.  Add shrimp; toss to coat.  Let stand 30 minutes.
Meanwhile, in medium bowl combine mangoes, onion, pepper, avocado and salsa.  Toss to coat; salt to taste.  Set aside.
Prepare grill to medium heat.  Place shrimp on skewers; discard marinade.  Grill shrimp, turning once, until cooked through and opaque (about 8-10 minutes).
Remove shrimp from skewers and place in tortillas.  Top with salsa and cheese.
Tip:  Jarred mangoes found in the produce section work great for this recipe.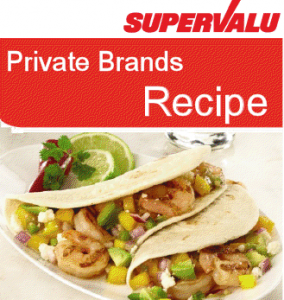 See More Recipes from my #EEinNYC Trip:
Mock Mojitos Recipe
~Shrimp Tacos with Mango Avocado Salsa Recipe
Veggie Pita Pizza Snacks Recipe
Edamame & Spinach Dip Recipe
Watermelon & Prosciutto Salad Recipe
Bacon, Cheddar & Apple Panini Recipe
Snickerdoodle Peach Ice Cream Sandwiches Recipe
**All recipes were developed by Genie Nicholas, SUPERVALU's culinary manager.