Coupon stack at Harris Teeter for a deal on Tampax.  These aren't on sale right now, so you can print the coupon and load the e-VIC coupon onto your card and hold off until you can get a better deal.  The e-VIC coupon doesn't expire until November 30th, but it likely won't last long so load now!
Tampax Gentle Glide or Sport Tampon,s 32 – 36 ct $8.79
Use $3.00 off 1 Playtex Gentle Glide or Sport Tampons
Stack with $3/1 e-VIC coupon
Final: $2.79 each after stacked coupons
What are e-VIC coupons?
e-VIC coupons are paperless coupons that can be redeemed for face value at Harris Teeter stores.  You must be an e-VIC member to access these special coupons.  You can load e-VIC coupons onto your VIC card and the saving will be deducted at the register.  e-VIC coupons and paper manufacture coupons can be "stacked".  Learn more about Harris Teeter e-VIC coupons HERE.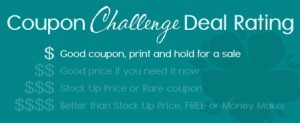 See more Harris Teeter Deals before shopping!