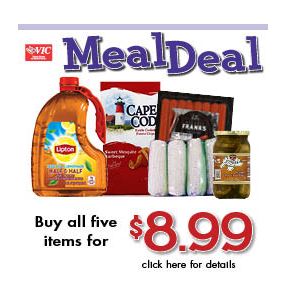 Hungry for an affordable meal? Pick up the items below at your local Harris Teeter and enjoy a great meal and great savings!
This week's Meal Deal:
Buy All Five Items For $8.99:
One (1) 16 oz. Miss Jenny's Pickles
One (1) 128 oz. Lipton Lemonade or Iced Tea
One (1) 15 oz. HT Traders Franks
One (1) Farmers Market Packaged White Corn
One (1) 7.5 – 8.5 oz. Cape Cod Chips
Enjoy a great meal on us and save at least $10.06!
You must purchase all 5 items in a single transaction with your VIC card to receive this great deal. Limit one transaction per household. Offer good until  September 6th.
Check out these other Harris Teeter Deals: