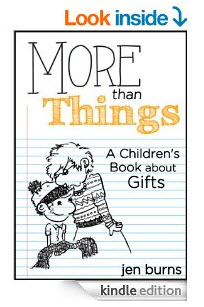 With Christmas less then five weeks away it seems that crazy buying season is here however, Amazon has a great Kindle freebie available right now called, More Than Things: A Children's Book about Gifts
, that is perfect for kids to learn that it is beyond getting a gift that really matters.
Join Brother as he waits anxiously for his approaching birthday. He wants SO many things… until he has a very strange dream. Brother learns a valuable lesson, and has a birthday to remember.
This book was written for preschool and elementary aged children. It will initiate thought and conversation about how people are more important than the things they give us.
It is playfully illustrated by Kati Burns (still a kid herself).
Included in the ebook is a link for free printables: Thank you notes for your child to use as they show their appreciation for the gifts they receive.
This is the third book in a series of adventures with Brother and Sis. The first is titled, "Room to Play: A Children's Book about Decluttering," and the second is titled, "Bored No More: A Children's Book about Creativity."
Don't have a Kindle?

This ebook is specifically for Kindles. However, you can download a free application which enables you to read Kindle ebooks on your computer, iphone, Android, Blackberry, iPad and more.
Need a Kindle?
Why pay for books when you can get them free? See more FREE ebook offers!
Product prices and availability are accurate as of the date/time indicated and are subject to change. Any price and availability information displayed on amazon.com at the time of purchase will apply to the purchase of this product.