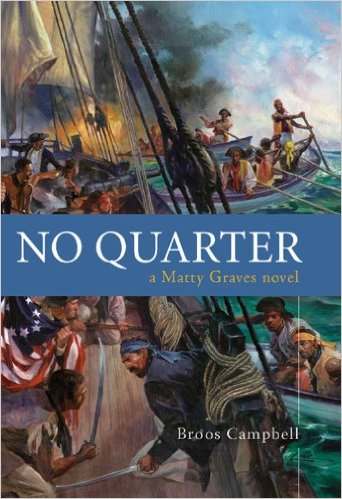 Amazon has No Quarter: A Matty Graves Novel available as a FREE download – was $9.99!!
This first book in the series introduces Matty Graves, midshipman in the early years of the United States Navy. In 1799, the young U.S. Navy faces France in an undeclared Quasi-War for the Caribbean. Matty Graves is caught up in escalating violence as he serves aboard the Rattle-Snake under his drunken cousin, Billy. Matty already knows how to handle the sails and fight a ship. Now, with the sarcastic Lieutenant Peter Wickett as his mentor and nemesis, he faces the ironies of a war where telling friend from foe is no mean trick.
Don't have a Kindle?

This ebook is specifically for Kindles. However, you can download a free application which enables you to read Kindle ebooks on your computer, iphone, Android, Blackberry, iPad and more.
Need a Kindle?
Why pay for books when you can get them free? See more FREE ebook offers!
Product prices and availability are accurate as of the date/time indicated and are subject to change. Any price and availability information displayed on amazon.com at the time of purchase will apply to the purchase of this product.