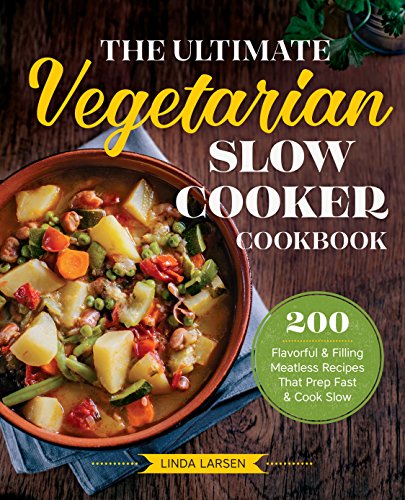 Amazon has The Ultimate Vegetarian Slow Cooker Cookbook: 200 Flavorful and Filling Meatless Recipes That Prep Fast and Cook Slow available for $1.99 – $18.99!
Working more vegetables into your diet and schedule is easier than ever by using your slow cooker to create wholesome plant-based meals. Full of diverse ingredients and exciting flavors, The Ultimate Vegetarian Slow Cooker is a vegetarian cookbook that offers 200 recipes to meet your nutritional needs and busy lifestyle.

Slow-cooking expert and author of The Complete Slow Cooking for Two, Linda Larsen routinely makes vegetarian meals for her family and herself. In this vegetarian cookbook, Linda's recipes deliver the "prep fast, cook slow" ease to your kitchen. The Ultimate Vegetarian Slow Cooker offers tasty variations that ensure that you'll be able to use each recipe again and again, most of which require no more than 15 minutes total prep time.

Finally, a vegetarian cookbook with simple, scrumptious recipes such as: Pumpkin Apple Breakfast Bars * Barley-Vegetable Risotto * Fajita Chowder * Black Bean-Quinoa Chili * Wild Mushroom Stroganoff * Roasted Garlic Mashed Root Veggies * Salted Caramel Cheesecake * and much more.

The only vegetarian cookbook for slow cookers that you'll ever need, The Ultimate Vegetarian Slow Cooker also includes smart grocery shopping tips that enable you stay within budget, as well as suggestions for slow cooker care that make clean up a breeze.
Don't have a Kindle?

This ebook is specifically for Kindles. However, you can download a free application which enables you to read Kindle ebooks on your computer, iphone, Android, Blackberry, iPad and more.
Need a Kindle?
Why pay for books when you can get them free? See more FREE ebook offers!
Product prices and availability are accurate as of the date/time indicated and are subject to change. Any price and availability information displayed on amazon.com at the time of purchase will apply to the purchase of this product.