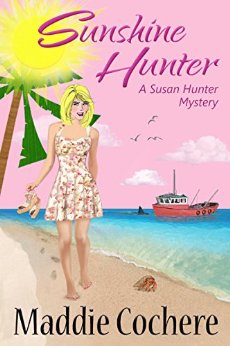 Amazon has Sunshine Hunter (A Susan Hunter Mystery Book 1) for FREE download to your Kindle. If you don't own a Kindle you can install the Kindle version for your PC, Android, Tablet, etc. and still get all the free books! As always Amazon prices will and do change in an instant so you will want to hurry for this great price! Read more about this book from Amazon's description:
Chick Lit Mystery – The Susan Hunter books are not your typical mysteries, and Susan is not your typical sleuth. Often, she is simply in the wrong place at the wrong time, and things go downhill quickly. All the books cross genres of chick lit, mystery, romance, humor, and action, bringing you a fast-paced, easy-breezy read.

When Susan Hunter discovers her boyfriend of three months is married, she accepts an offer from her best friend to tag along for a week in Florida. They barely have time to hit the beach before she believes someone is stalking them. When she learns of a murder back home, she also finds out she's wanted for questioning. The story takes an adventurous turn when she winds up in the Gulf of Mexico. … Humorous, sometimes ominous, Sunshine Hunter is quirky and fun!
Don't have a Kindle?

This ebook is specifically for Kindles. However, you can download a free application which enables you to read Kindle ebooks on your computer, iphone, Android, Blackberry, iPad and more.
Need a Kindle?
Why pay for books when you can get them free? See more FREE ebook offers!
Product prices and availability are accurate as of the date/time indicated and are subject to change. Any price and availability information displayed on amazon.com at the time of purchase will apply to the purchase of this product.