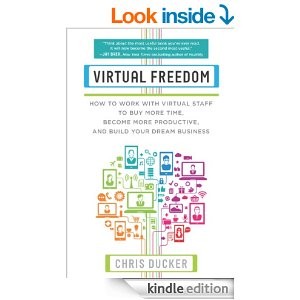 Today only get Virtual Freedom: How to Work with Virtual Staff to Buy More Time, Become More Productive, and Build Your Dream Business
by Chris Ducker for just $1.99 – was $16.95! This is a fantastic book for business owners.
Entrepreneurs often suffer from "superhero syndrome"—the misconception that to be successful, they must do everything themselves. Not only are they the boss, but also the salesperson, HR manager, copywriter, operations manager, online marketing guru, and so much more. It's no wonder why so many people give up the dream of starting a business—it's just too much for one person to handle.
But outsourcing expert and "Virtual CEO," Chris Ducker knows how you can get the help you need with resources you can afford. Small business owners, consultants, and online entrepreneurs don't have to go it alone when they discover the power of building teams of virtual employees to help run, support, and grow their businesses.
Don't have a Kindle?

This ebook is specifically for Kindles. However, you can download a free application which enables you to read Kindle ebooks on your computer, iphone, Android, Blackberry, iPad and more.
Need a Kindle?
Why pay for books when you can get them free? See more FREE ebook offers!
Product prices and availability are accurate as of the date/time indicated and are subject to change. Any price and availability information displayed on amazon.com at the time of purchase will apply to the purchase of this product.