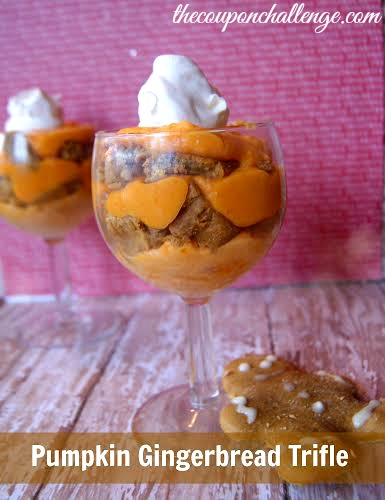 This Pumpkin Gingerbread Trifle is perfect for holiday entertaining. It's a delicious holiday dessert that is simple to make, and beautiful to present to guests or even your family.
Layered with sweet, light pumpkin cream and spicy gingerbread, this dessert will be a hit and is a wonderful alternative to plain old pie. For individual servings this is beautiful in a wine glass, and equally pretty in a mason jar. Make it in a large glass bowl for a self serve dessert.
Customize it a bit to make it your own by layering in a chocolate drizzle instead of caramel. You could also whip instant coffee granules into your cool whip for a delicious coffee flavored topping.
Pumpkin Gingerbread Trifle
Ingredients:
1-12 oz. container of cool whip
1 -30 oz. can of pumpkin puree
½ batch of this Soft Gingerbread Cookie Recipe, cubed
1 cup powdered sugar
2-4 Tbsp. caramel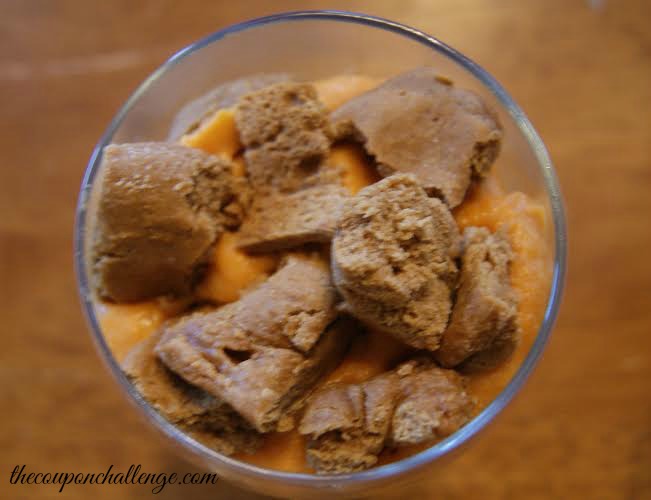 Directions
In a large mixing bowl whisk; cool whip, pureed pumpkin, and powdered sugar until
Bake gingerbread using THIS Soft Gingerbread Cookie Recipe, cut in half.
Instead of cutting out shapes with cookie cutters – roll flat and bake like a large rectangle cookie, cool, and cut into 1×1 squares with a knife. OR. like me, you may have some gingerbread men left over already.  This is a perfect way to use up broken or leftover men.  Just crumble into small pieces.
Layer pumpkin mixture, a drizzle of caramel, and gingerbread. Repeat. Top with plain cool whip.
Makes 8-10 small servings of Pumpkin Gingerbread Trifle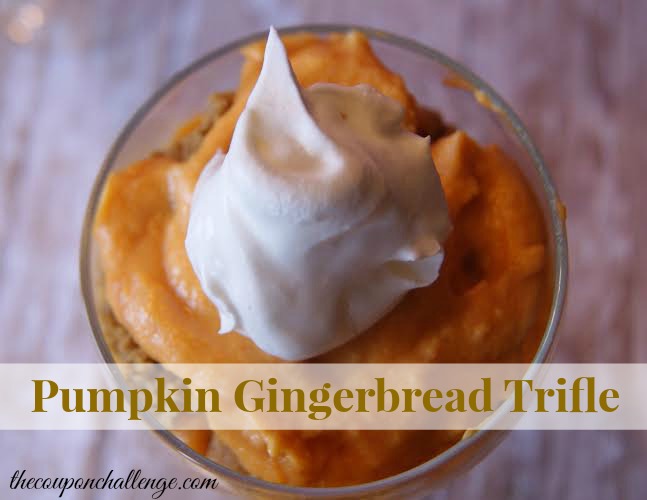 See more Gingerbread Cookie Recipe and Gingerbread Recipes!
You might also like: