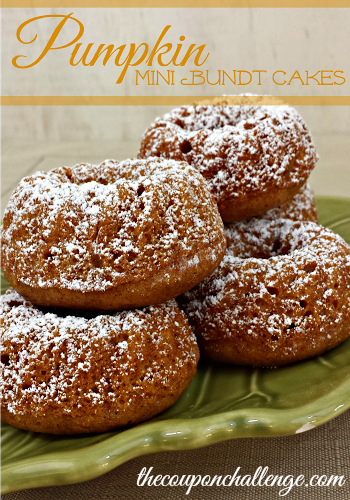 These Mini Pumpkin Bundt Cakes will make a great addition to any meal.  Watch for sales on canned pumpkin to make this dessert budget friendly.  I've also made my own pumpkin puree, it's just a bit more time consuming.  You will likely have the other ingredients already on hand to make this pumpkin cake recipe – easy and delicious!
Pumpkin Cake Recipe: Easy Mini Bundt Cakes
Ingredients:
1 cup canned pumpkin (or fresh pumpkin puree)
1 cup all-purpose flour
1/4 cup whole wheat flour
3/4 cup sugar
1 teaspoon baking powder
1/2 teaspoon baking soda
1 teaspoon salt
1/2 teaspoon pumpkin pie spice
2 eggs
1/2 cup butter, melted
1/4 cup applesauce
1/2 cup sour cream
1/2 teaspoon vanilla extract
Confectioners' sugar for dusting
Directions:
Preheat the oven to 350-degrees and use a cooking spray to prepare your mini bundt cake pans.
In a large mixing bowl, whisk together the flours, sugar, baking powder and soda, salt and pumpkin pie spice.
In another bowl, beat the eggs, vanilla extract, cooled melted butter and apple sauce. Stir in the sour cream and the pumpkin puree.
Fold in the dry ingredients until just combined – do not overmix.
Pour the batter into the prepared pan and bake for 18-22 minutes until a toothpick tester comes out clean. Let the cakes rest 5 minutes, before turning them out onto a wire rack. Repeat with the remaining batter (depending on the size of your pan).
Once cooled, use a flour sifter to dust the tops of the cakes with confectioners' sugar.
Now, try not to eat all of these mini pumpkin cakes by yourself!
You may also like my Easy Pumpkin Cupcakes with Cream Cheese Frosting!