Try this tasty and easy butternut squash soup recipe.   You can add in tortellini and Parmesan cheese for more yummy goodness.  Serve with crusty bread and a salad to round out your meal.
Easy Butternut Squash Soup Recipe: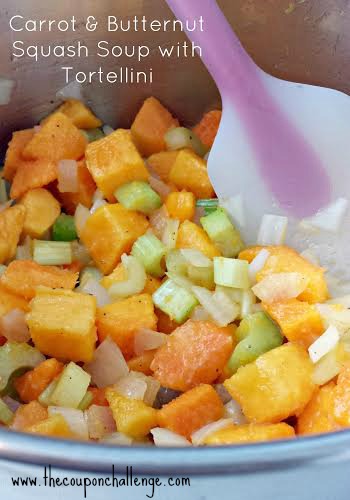 Ingredients:
½ a large onion, diced
2 stalks of celery, diced
2 tablespoons butter
2 cups peeled and cubed butternut squash
4 cups peeled and chopped carrots
3 cups chicken stock
½ teaspoon dried marjoram
8 ounces cream cheese
1/8 teaspoon cayenne pepper
Black Pepper and Kosher Salt to taste
½ lb. cooked tortellini
Parmesan cheese for serving, optional
Directions:
Melt the butter in a stockpot and cook the onions and celery over medium heat until the onions are translucent.
Add the butternut squash, carrots, chicken stock, marjoram, pepper, salt and cayenne pepper.
Bring to a boil and cook until the vegetables are tender, about 20 minutes.
Reduce the heat.
Cut the cream cheese into pieces and add to the stockpot.
Using an immersion blender, puree the mixture until smooth and creamy.
Add the cooked tortellini just before serving.
Garnish with Parmesan cheese if desired.