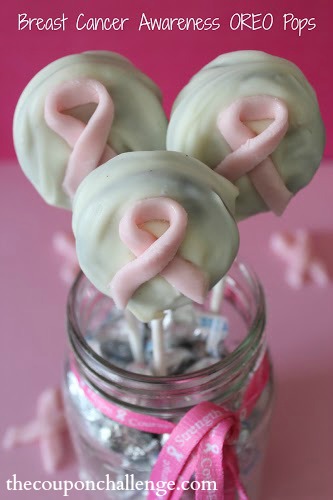 Show your support with these pretty White Breast Cancer Awareness Oreo Pops.  These would be great for a school raffle, bake sale or just to get creative with your kids.
INGREDIENTS:
6 Double Stuff Oreos
1/2 cup White Candy Chips
6 Sticks
1 tsp Crisco
Pink Fondant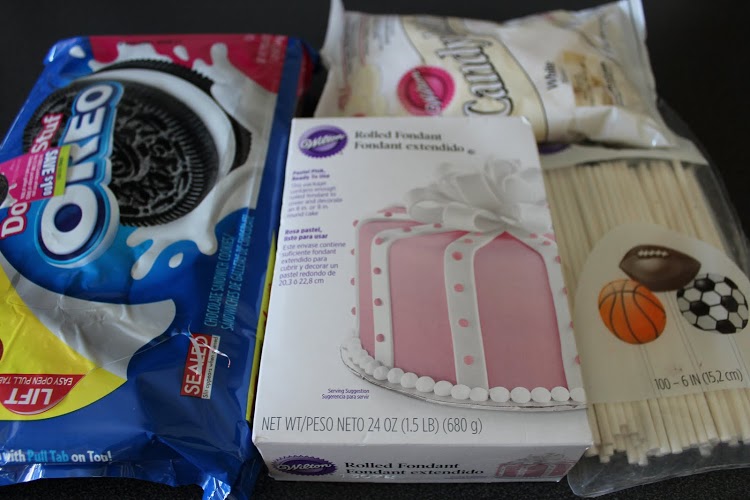 DIRECTIONS:
Roll out a small amount of fondant to about 1/16″ thickness.
Cut 6 ribbons of fondant, sape and place in refrigerator to firm.
Twist open each of the Oreo cookies.
Using the stick, make an indentation in the white filling of each cookie.
Heat Candy Chips and Crisco by microwaving for 30 seconds stirring and repeating until melted. Allow to cool for 2 minutes.
Dip stick in melted candy and then insert stick in indentation of cookie.
Place cookie back together and place in refrigerator to set for 5 minutes.
After cookies have set, reheat candy for 30 seconds and stir.
Lay Oreo in melted candy and spoon mixture over cookie to coat completely.
Carefully remove from candy so the cookie doesn't come apart, and let excess candy drip off.
Lay Oreo on wax paper. Place ribbon on cookie and gently press in to set.
Immediately place in refrigerator for 10 minutes to set candy mix.
How do you show your support?