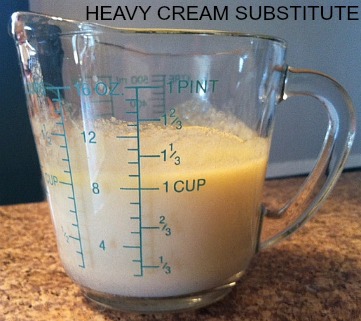 I'm having a little fun in the kitchen today  making a Boston Cream Cake for John's Birthday!  Oh how I love baking and cake decorating!!  😮  Anyway, I wanted to share this quick and easy recipe with you since I was making it for my chocolate ganache.  I didn't have any Heavy Cream on hand and I didn't want to stop what I was doing to run to the store either.   So, I used what I had on hand.  This is also an inexpensive alternative because the store bought cream can be quite pricey.
Ingredients:
3/4 cup milk
1/3 cup butter
Directions:
(1)  Melt the butter
(2)  Pour it into the milk, and stir
(3)  Use in place of one cup of heavy cream
*****Tip: If you use low-fat/skim milk, whisk in a tablespoon of flour to the mixture to thicken.
Yields: 1 cup (Store any extra in the refrigerator)
Note: This will NOT whip!  It can NOT be used to make fresh whipped cream.
Do you prefer to make your own Heavy Cream Substitute?